Welcome to our Pricing Page.
All of our prams are built with Okoume, 6mm, five ply marine grade 1088 plywood. Okoume plywood has a specific gravity of 0.37 o.d. weight / volume. This is the lightest and strongest marine plywood available today. We believe Okoume plywood provides a look of unparallel natural beauty.
All framing members are clear Sitka Spruce. Rub rails are plantation grown clear Honduran Mahogany. Keelsons are clear white oak from Arkansas..
We use only Marine grade Bronze ring shank nails and Stainless Steel screws.
All joints are glued with Gorilla Glue™. This is a 100% waterproof polyurethane glue guaranteed to hold for the lifetime of your pram. Check them on the web at; www.gorillaglue.com
We use only System Three Resins™ for our epoxy finishes. This epoxy actually bonds with the grain of the wood to add an extremely tough and long lasting protective coat. That's why we like them. Get the latest information on their fine products at; www.systemthree.com
If you opt for fiberglass sides and bottom, we use 6oz. cloth with a three inch lap at the seams. Seams occur at the chine thus providing a double layer of protection where you need it most.
Our unfinished prams weigh only 65 Pounds!
Fiberglass and Hardware add roughly 10 to 20 lbs. depending on your choices. This adds up to an approximate total weight under 80 Lbs.!!!
Your boat will come unfinished. Or if you choose, we recommend our boatyard applied fiberglass and epoxy protective coating. For complete UV protection, we recommend you paint or varnish your boat. Please ask us for complete details.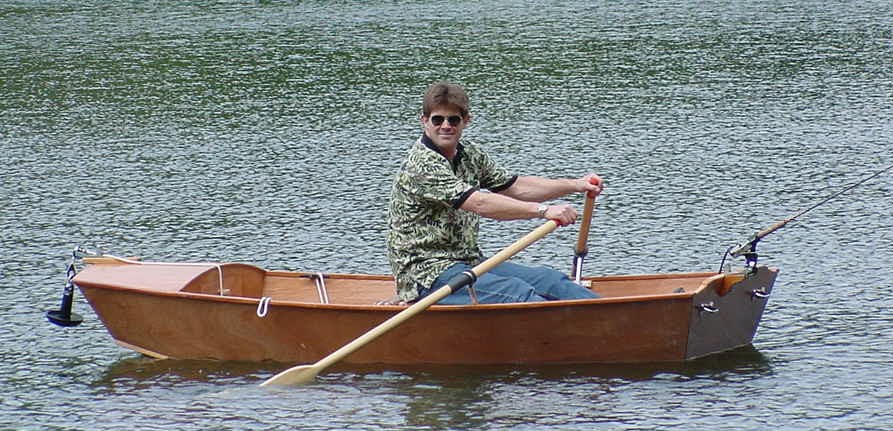 | | |
| --- | --- |
| Standard 10 foot unfinished fishing pram ------ | $ 499.99 |
| Fiberglass Sides & Bottom (two coats epoxy resin) ------ | $ 199.99 |
| Interior finish (one coat epoxy resin) ------ | $ 39.99 |
| 7-1/2 foot Oars and galvanized hardware ------ | $ 140.00 |
| 4" Nylon cleats (installed) ------ | $ 7.50 ea. |
| 2 Zinc plated stern handles (mounted) ------ | $ 30.00 |
| Stainless Steel 1-1/2" Bow Eye ------ | $ 30.00 |
| Anchor lift & lock (mounted) ------ | $ 17.50 ea. |
| Additional Bow storage compartment------ | $ 60.00 |
| Additional Stern Storage compartment------- | $ 60.00 |
| Floor Boards------ | $ 50.00 |
| Scotty™ Fly rod holders------- | $ 30.00 ea. |
| | |
| | |
Please contact us with any specific needs or design ideas you may have. We can accommodate any changes you desire. We encourage your input. After all, you are our best source for new ways to make our prams even better.
Our prams are equally at home on the lake or in the river (within safe reasonable limits). They have a capacity of 350 lbs. or two persons plus 50 lbs. of gear.
We meet and/or exceed all U.S.C.G. standards.
Freight charges will be FOB Seattle WA. Please contact you shipper for exact amount.
Crating charge is $75.00 per boat.
Sales tax will be additional for Washington State residents.